Choose to live your life with passion, presence and purpose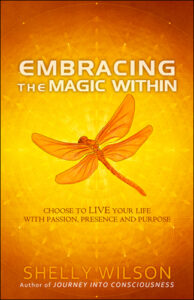 Available in eBook and Paperback
Shelly Wilson has created this inspirational and empowering book reminding us to embrace the magic within. At times, our earthly existence can feel mundane as we seemingly go through the motions of being human and function on auto-pilot. Shelly invites us to consciously attune body, mind and spirit to the expression of our true self. We have the opportunity to activate, embody and embrace all of our magical Divine being through an intentional and conscious practice of connection, communication and creation. Through positivity, authenticity, inspiration, words of wisdom and personal stories, Shelly aims to purposefully assist us with acknowledging and integrating this expansive, magical energy, so that we can truly live a life we love. It's time to Shine! 
Like Embracing the Magic Within on Facebook
Purchase eBook from Amazon for $9.99
Purchase Paperback from Amazon for $19.95
or a signed copy through website for $25.95  ($19.95  plus $6 s/h)
*Please contact me for postage outside of the continental United States.
Purchase Embracing the Magic Within and Clarity Cards Bundle
for $38.95  ($30.95 plus $8 s/h)
"Embracing the Magic Within is a delightful guide full of important information for those of us who want to reconnect with their authentic, magical self. Life is supposed to be magical! Magic, flow and synchronicity feel so good because they reveal our essence and true identity. Shelly takes readers on a journey into the world of the spirit and shows us how we can create magic in our own lives. A must-read for everyone who wants to live a magical life. I am certainly one of them. Thank you, Shelly, for this gem!" ~ Baptist de Pape, Author of The Power of the Heart, ThePowerOfTheHeart.com
"Shelly Wilson's beautiful soul can be felt on every page of this practical, meaningful guide. A truly lovely representation of what it means to embrace a spiritual lifestyle!" ~ Lisa McCourt, founder of The Love Shack and author of books about love that have sold over 8 million copies, LisaMcCourt.com
"Embracing the Magic Within is an empowering tool for authentic inside-out living in a world all too focused on external desires and illusions. Shelly Wilson offers inspiration, action steps, stories, insights and personal experiences to illustrate the necessity of reconnecting with the magical inner self, the real self, and living from that place of power and self-awareness. A must-have book for those seeking to discover or rediscover the true passion and purpose of their lives." ~ Marie D. Jones, Writer/Producer, MarieDJones.com
"Embracing the Magic Within is filled with wisdom and simple, clear, powerful suggestions and personal stories on how to live your life more fully. Magic is normal. You really do create your own reality. Shelly Wilson makes this so easy to understand and apply in our own lives. She is a truly gifted medium, and I am very grateful for her sharing her insights in this remarkable book." ~ Dean Shrock, Ph.D., Author of Doctor's Orders: Go Fishing and Why Love Heals, DeanShrock.com
"Shelly Wilson has outdone herself in showing us all how to embrace our magic within through magic of her own writing. This book is a must-have on your shelf. She has shown us not only how to embrace the magic within each and every one of us, but also how to find that magical force and practice that force. Through her words, she has taught us how to become better than we are and how to reach for beauty in our lives through her own powerful spiritual lessons she has learned within her own life. What beautiful and amazing words she has written that will inspire us all to look at life differently and in a better way of understanding our lessons while here on this planet. She is a force to be reckoned with." ~ Nikki Pattillo, Author of Children of the Stars: Advice for Parents and Star Children and A Spiritual Evolution, StarChildren.info and SpiritualEvolution.info
"I had an online reading with Shelly Wilson quite some time ago, and I have been a fan ever since. Her gifts brought me so much clarity. The insight I received from that reading I still utilize in my daily life to this day. Her book is a must-read because she really KNOWS how to share the Magic we all have within us." ~ Glenn Scarpelli, Actor and Owner/Founder of Sedona NOW TV
---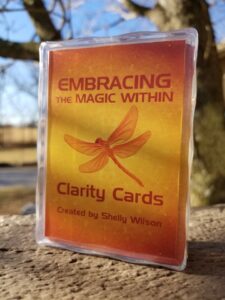 Embracing the Magic Within: Clarity Cards
All of the answers you seek can be found within if you take the time to listen. ~ Shelly
Shelly Wilson has created this deck of inspirational and empowering Clarity Cards to remind us to embrace the magic within. Much like the Cards of Empowerment deck, I was inspired to create this deck as a divination tool to accompany the book, Embracing the Magic Within, and to empower you to connect to the you within. I purposefully have chosen not to include detailed instructions with this deck of cards as I encourage you to explore and use them as you are guided to do so.
You can simply choose to ask the question, "What do I need to know for today?" and then pull a card or as many that you feel led to pull.
2.5″ x 3.5″ (55 cards)
52 message cards, title card and author card
Packaging: custom plastic box
Cost: $15.95 plus $5 s/h within continental US
*contact me for shipping outside of continental US
Purchase cards here
Purchase Embracing the Magic Within and Clarity Cards Bundle
for $38.95  ($30.95 plus $8 s/h)